Potion of Fire Eaters
Edit
The Potion of Fire Eaters is a deep red potion, which inflicts the Fire Eater effect. It causes entities to NEED fire to live. If they're on fire, they gain health and are strong, but if they are not, they are quickly consumed by Fire Eaters (invisible things that don't really exist).
It can be brewed from vanilla lava and a Blazing Heart. It can be both elongated and amplified. Brewing it with glowstone produces a Potion of Fire Eaters II (double the healing power/damage). Brewing the amplified version with a Plagued/Pure Tear (a Plagued Tear, in this case) creates a Potion of Fire Eaters III, an even more extreme heal/damage.
Brewing the base Potion of Fire Eaters with redstone elongates it, making it last twice as long. Brewing THAT potion with a Pure Tear elongates it again, quadrupling the original duration.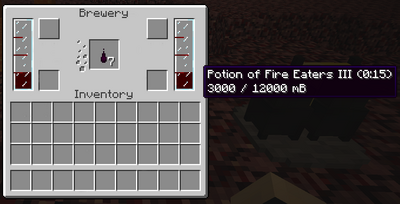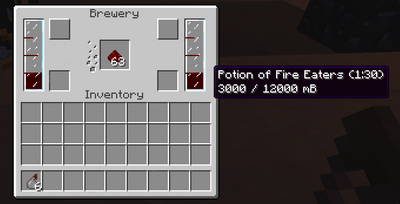 Ad blocker interference detected!
Wikia is a free-to-use site that makes money from advertising. We have a modified experience for viewers using ad blockers

Wikia is not accessible if you've made further modifications. Remove the custom ad blocker rule(s) and the page will load as expected.